When an SEO agency is first hired for their services, on occasion the client will have a clear idea of particular keywords they would like to rank for in the SERPS. And many business owners are under the impression that terms with the highest search volume are the ones that their business needs to target.
This isn't always the case.
Sure, search volume is a great indicator of a keyword's worth, but in today's mobile-first world, user search intent is more important.
Why is search intent so dang important?
When a person performs a search on Google, Bing, or a different search engine, this is usually composed of a set of words and the language used in a search query tells us a lot about a person's intent. For example, are they in the discovery phase of a new purchase? Are they ready to buy a product? Or are they looking for resources and tutorials?
Search is the only pathway to organic traffic. By understanding the intent behind a user's search, you're able to optimize each webpage based on that intent accordingly. For example, during your keyword research, you find that a high number of users are searching for "best cocktails for a wedding". You will then need to create new content that targets that search term and/or optimize your current content for this term. Kapeesh?
The three different types of search query
Informational
The searcher is looking for specific information. For example, "what's the time in London?" or "how long is the movie Black Panther?".
Transactional
The searcher wants to interact with a particular website, product, or service. For example, "buy Adidas shoes" or "download Screaming Frog".
Navigational
The searcher is looking to be navigated to a particular website. For example, "Amazon" or "Twitter".
By understanding these three core types of search, it allows us to examine specifically where the user is at in their buying journey, how we can directly influence that journey, and what search terms we need to target in order to solidify the purchase process.
Choosing keywords based on intent
Not all keywords are created equal, even when they are closely related. The point we're trying to make is that only the right keywords are important.
Sticking with our previous example, let's say you're the owner of a new fancy cocktail bar in Vancouver. Your aim is to attract an eco-conscious crowd you enjoy nothing more than sipping on delicious liberations, all made using locally sourced liquors and ingredients. You've done a bit of research and want to rank on the first page in Google for "bars", which has a search volume of one million.
If you examine the SERP for this term, the top spots on Google are mainly all listicle articles and a single bar listing languishes in the bottom results.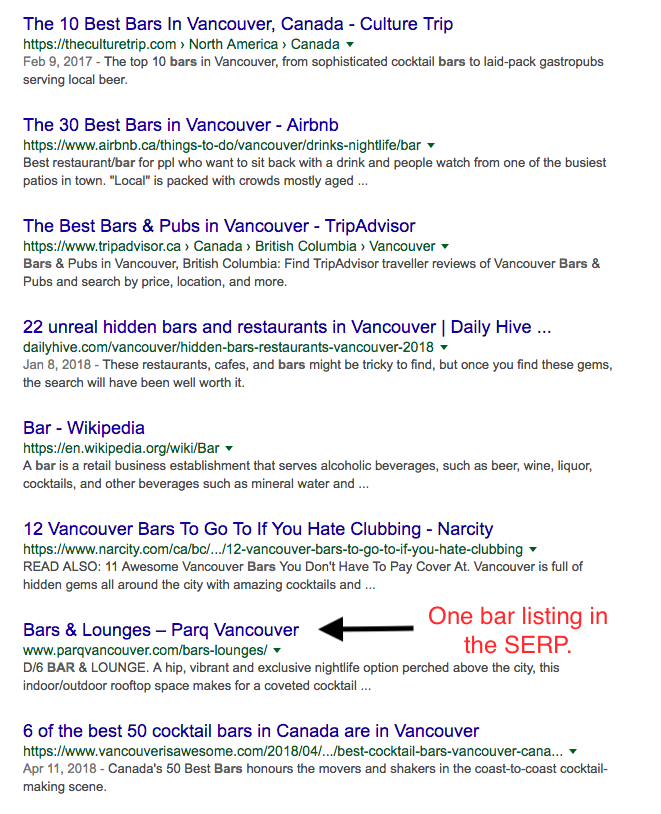 So, therefore we can determine that the overall intent of the keyword "bars" Google perceives to be informational, and thus ranks the keyword with information-centric articles first. From this, we now know that ranking in the number one spot for this term shouldn't be a core aim because the intent behind the keyword is wrong (and not to mention it's also a crazily competitive search term).
Shaken not stirred…
So we now know that targeting the search term "bars" is out of the question. If we think about the intent behind a search term, what could be better than creating a long-tail variation and targeting "cocktail bars in Vancouver".
This query might not have the sky-high search volume as "bars", but it does tell us exactly what the searcher is looking for. Plus, it's location-specific which is great for improving local SEO too.
Long-tail keywords are SEO gold, and when you target long-tail keywords, you're able to really ensure that you're relating your business offering to the intent behind the search. This will bring in a better quality of traffic and a higher traffic quality – which often leads to better conversions in the long run.
Long-Tail Iced Tea
When you're planning which keywords to target, keep in mind two things:
Always consider the intent behind the keyword.
Always consider the long-tail keyword variant.
By focussing on these two elements, a business can effectively target keywords that will help with their organic growth and ensure that they're bringing in intent-fuelled organic traffic that converts.
Need help with your keyword research? Say hi to Method and Metric.