Featured Snippets are one of several unique features available on the search engine results page (SERP) in Google Search. Featured Snippets (formerly known as "Quick Answers") were introduced in 2014 however, early versions of SERP features (such as the Knowledge Graph) were released as far back as 2012.
Initially, many webmasters were disgruntled at the notion of Featured Snippets as they saw it as Google continuing to monopolize the SERP.
While Google expressed these features were aimed to improve the user experience by providing searchers with answers to their questions in as easy and streamlined a manner as possible, others saw it as Google stealing clicks to their website.
Over the last few years, however, Featured Snippets (and other SERP features), have evolved dramatically. New data suggests that content that earns a Featured Snippet can receive a 516% increase in sessions. In 2020, Featured Snippets are generally regarded as a coveted position on the SERP. They usually come in the form of an Answer Box, List, or Table.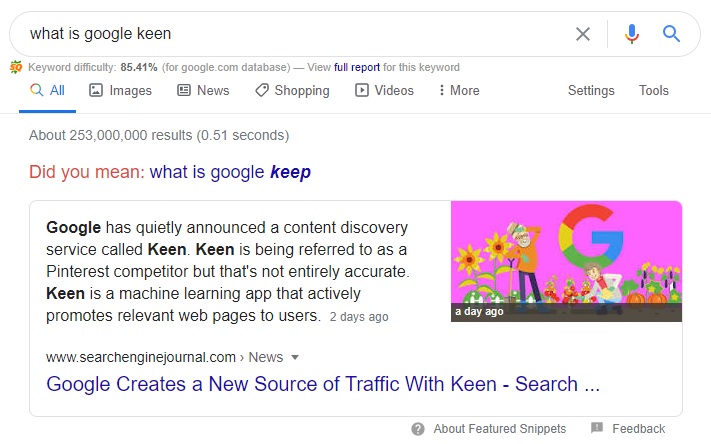 Previously, owners of a Featured Snippet had the advantage of having their content appear at the very top of the SERP (formerly known as Position Zero) and then again in the organic search results that followed (usually in the top 3 spots). So this made it seem as if there was 11 search results on the first SERP for eligible search queries (1 Featured Snippet spot and 10 organic listings).
In January 2020, Google corrected what it called "Featured Snippet Deduplication" and instead of there being one Featured Snippet position and 10 organic listings, Featured Snippets would now count as position 1 with 9 organic listings following it.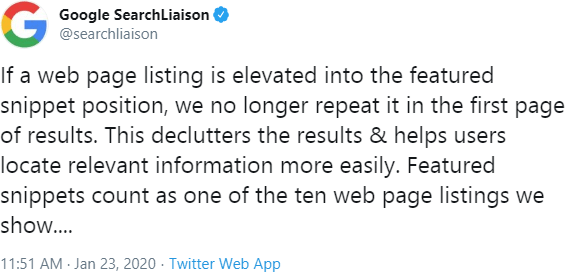 Why Are Featured Snippets Important?
With Featured Snippets now being in position 1 in the search results, this means whoever owns the snippet will have the greatest visibility in the SERP for that search query. This typically also translates to an increased CTR from the search results page, more website traffic, and potentially more leads or sales (plus bragging rights).
Furthermore, owning a Featured Snippet reflects expertise and authority, and this fosters trust between Google, searchers, and your website.
Can Anyone Get a Featured Snippet?
While it is possible for anyone to own a Featured Snippet, it is important to remember the purpose of this section in the Google results page, which is to provide the searcher with a quick and accurate answer to their search query.
As such, Google prefers content from reputable websites. From an SEO standpoint, websites will need to have a high domain score, a quality backlink profile, and already be ranking organically in the top 3-4 search results for the target keywords to typically be eligible for owning a featured snippet.
Additionally, the content itself will need to be written and structured in a way that is friendly to search engines.
Basically, this means crafting highly optimized content so ensuring your on-page SEO checklist is complete when going after Featured Snippets is important.
How to Get a Featured Snippet on Google in 5 Steps
Step 1 – Identify
When going after a Featured Snippet, you'll need to be precise in your research and targeting. This starts by identifying the topic you're wanting to develop content around.
Once you've found your topic, you can use SEO tools like SEMrush or Ahrefs to research whether a Featured Snippet exists for your keywords. Alternatively, you can simply head over to Google and type in your keyphrase to verify this as well.
Step 2 – Research
Once you've identified your topic and verified the existence of a Featured Snippet for those keywords, you'll need to do some keyword research to look at possible keyword variations to find a combination that has a high search volume with minimal competition.
Obviously, this isn't always possible but if you can find a sweet spot, your research here will pay off.
The Keyword Difficulty (KD) metric is used by most SEO platforms to help provide insights towards how difficult it will be to rank for the keywords you've chosen based on the competitive landscape.
The higher the KD, the more difficult it will be to rank for those keywords.
Aside from finding the best keyword choice, you'll want to identify the current owner of the Featured Snippet you're targeting and then essentially look at that content under a microscope.
You'll more or less need to do everything that they're doing but you'll need to find a way to do it better.
Noticeably better.
Remember, Google only wants the BEST content in the Featured Snippet position. You'll need to prove yours hits the mark.
Some things to consider as you analyze the content of the current Featured Snippet owner are:
How is the page structured?
Pay attention to formatting and the use of headings (h tags)

What is their keyword strategy like?
You can use a free tool like SEO Quake to inspect the keyword density on the page. This will help you understand the keywords they have chosen for this content and the number of instances that they are found. You'll need to make sure that your own keyword targets align in a similar way

What is their word count?
Google has identified this content as the winner for the Featured Snippet, which means they feel the length of the content is appropriate (or at least contains enough of the content they want). You'll want to offer the same or more in terms of word count but be careful about writing too much. It's not necessarily the length of the content but how important and useful the information contained within it is that matters most

What is their domain score?
Free tools like Ubersuggest can tell you a website's domain score. The higher the domain score, the more difficult it will be to compete with them

What is their backlink profile like?
If the current owner of the Featured Snippet has tens of thousands of quality backlinks and your website only has a couple hundred, your chances of claiming the Featured Snippet—even with flawless research and on-page SEO—won't likely be enough
If you don't think you can compete with the current owner of the Featured Snippet, it may be best to try and find a different topic or a Featured Snippet that has a current owner that you can compete with in terms of backlinks and domain score.
The research you do in this step of the process will help verify whether your ambition to claim the snippet is viable or not.
Many keyword tools available on SEO platforms like Moz, Ahrefs, or SEMrush can help you identify "low hanging fruit", which is essentially Featured Snippets that are the most attainable.
Step 3 – Create
Once you've identified your topic and done your research to verify whether you've actually got a shot at the Featured Snippet or not, the next step is to create your content.
You'll want to use the content of the current owner of the Featured Snippet as a framework for your own content. You'll need to take what they're doing and find a way to do it better. This could come in several forms such as:
Providing additional useful information that is not included in the current content
Cultivating longer user time-on-page. This could be done by adding visual elements such as engaging images or videos. If Google sees users are spending more time on your page than the current Featured Snippet owner, they may identify your content as more valuable to searchers
Providing exceptionally clear navigation and structuring (basically creating the best user experience possible)
The goal when targeting Featured Snippets should always be to look at the content that owns the snippet and then make it 10x better.
Step 4 – Grow Your Website
As we mentioned earlier, you could have flawless keyword research, on-page SEO, and even the absolute best content out there for the topic at hand.
Unfortunately though, if you don't have a similar domain score, backlink profile, and existing organic rankings in the top 3-4 search results for your target keywords as the current snippet owner, your chance of claiming the Featured Snippet is slim.
At least for now.
You've identified, researched, and crafted amazing content primed for that coveted Featured Snippet position.
Now it's time to release it into the wild. If the current Featured Snippet owner outranks you in domain score, backlinks, etc. then shift your focus to growing your backlink profile and improving your domain authority.
There's always a bigger fish in the sea and it's unlikely that anyone website will hold the Featured Snippet position forever. SEO is all about playing the long game.
In time, with continued strategic planning and execution, your organic keyword rankings, backlink profile, and domain score will all improve.
As this happens, your ability to claim Featured Snippets will come more naturally as Google sees your website as an authoritative source in your niche.
Don't forget to monitor your content, keywords, etc. to measure your progress and to gain other valuable insights for improvement. With hard work, dedication, and time, owning that Featured Snippet will be within your grasp.
Good luck!