Why competitive analysis?

Knowing your competition, is an essential part of business, whether it's online or offline. When it comes to online, understanding who is beating you in the SERPs and why helps you to develop your strategy using the data collected. We're going to take you through a step-by-step guide of how to perform a competitor analysis and some of the best tools to use along the way.

But first of all, what is a competitor analysis? And what can you hope to achieve at the end? A competitor analysis is simply finding out which domains are ranking higher than you in the SERPs (eg. competitors), and delving into their on and offsite metrics to understand why this might be the case. In the end, you can expect to have:

A true understanding of who your SERP competitors are
Who your realistic competitors and your toughest competitors are (we'll discuss this difference later on)
Which keywords will be easier to target
Strengths and weaknesses of your competitors
Enough data to develop your strategy and prioritize your tactics
Firstly, it's important to perform a competitor analysis regularly because changes in the market can happen often and unpredictably. Who might be dominating the SERPs today may not be the same in a few months. Changes to product offerings or new additions to services also call for a fresh analysis to be done to scope out the market.

Let's assume we're a personal trainer in Vancouver, Canada for this example.

Step 1: Back to basics with keyword research

Before you can start digging into the SERPs you need to have a list of keywords that are suitable for your business and realistic to target. As a smaller personal trainer in Vancouver, we're unlikely to be able to (or want to) rank well for a broad term like "personal trainer". Instead, we're going to want to focus on more local terms like "personal trainers in downtown Vancouver". Think about long-tail keywords and localized phrases as well to get a really extensive list across all your services or product offerings.

There are lots of tools that can help with generating these lists both free and paid. Keyword Explorer is a great place to start as it provides keyword suggestions. However, its search volume is limited to range and it's targeted towards paid ads, so bear that in mind. A keyword which has little to no search volume in keyword planner may have higher search volumes in reality for your market. Longer tail keywords will naturally have lower search volumes but this doesn't mean you should discredit them. Visibility for a lot of longer-tail more specific search terms can help to bring in a lot of organic traffic to the site. Ahrefs, SEMrush, and Moz all have features to help with keyword research. The Keyword Explorer on Ahrefs is great because it provides the keyword difficulty, search volume, parent topic and a whole bunch of related keyword suggestions.
Ahref Keyword Explorer Tool: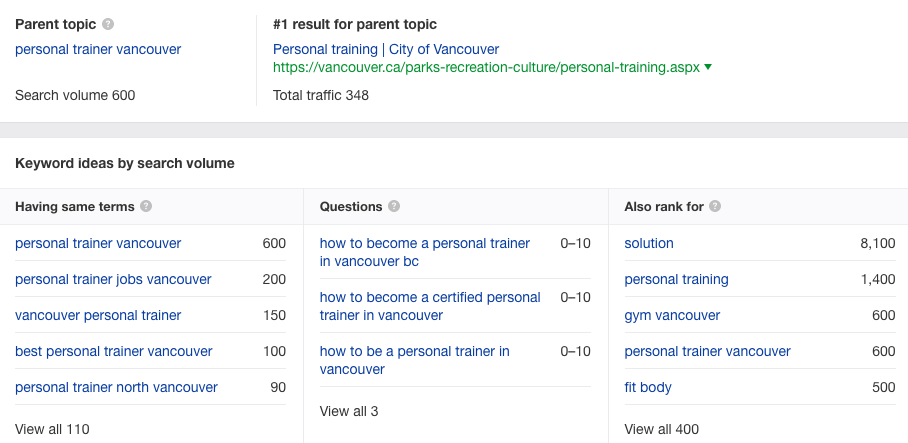 Moz Pro Keyword Suggestion Tool: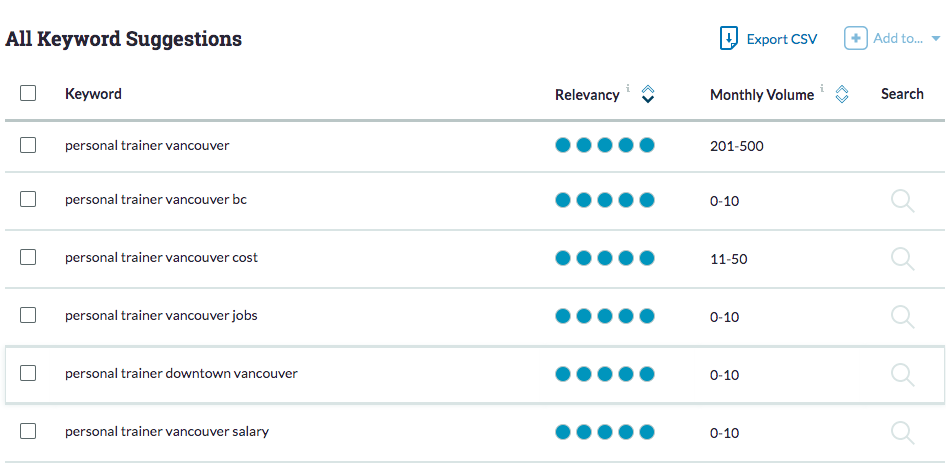 Once you've got your list, don't forget to segment it into related groups. You don't want to start analyzing hundreds of keywords at random!
Step 2: Identify your Competitors

Once you've got your keyword list (which might take a while to build out) you can start looking at the SERPs themselves. It's really important to note here that you might be thinking "yes, I know my competitors already, I don't need to look at the SERPs to tell me that".

Wrong.

Direct business competitors and SERP competitors can be very different. That's not to say that whoever is ranking in number 1 for a bunch of keywords is necessarily going to steal your potential customers if they're not offering exactly the same product. If they are ranking above you for a bunch of important keywords, then they are a competitor.

It's also important not to just analyze the top of page 1. If you're ranking on pages 3 and further, then it's unlikely that you're going to jump straight to the top of the SERPs. Instead, build two lists out; the more realistic domains that you can aim to compete within the short term and the tougher domains that you can aim for in the long run. This will help to break your analysis up into more manageable chunks.

You can build this list using a number of tools as well as manual research. Identify who your competitors are for each keyword group you have. You can, of course, run a manual Google search and look at the SERPs and who is appearing. Ahrefs has a SERP overview for keywords so you can easily see who is ranking and in which positions. SEMrush has a Competitive Positioning Map which identifies the competitors in the top 20 by traffic and keywords.

For instance, I can see here that some of my competitors based on SEMrush data are:

Ahrefs Competitor List: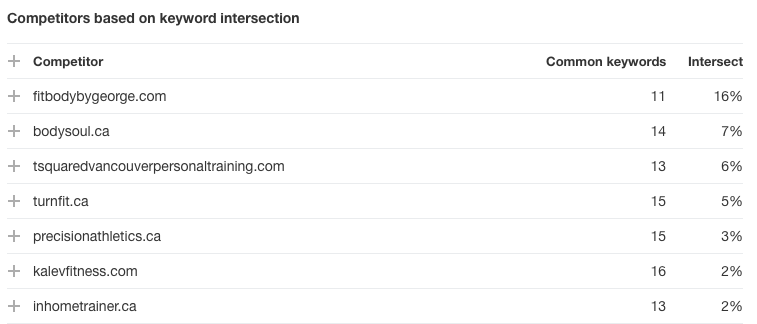 Once you've compiled your list pick a manageable number of competitors to review overall. You can either choose to do the rest at a later date or for further insights if needed.

Step 3: What type of content is ranking

For each keyword group, take a look at the SERPs and what type of content is ranking. Is it guides, blogs and FAQs or is it product listings or videos? Knowing the type of content you need to produce will give you a better chance of performing well.

Using tools or manual searches, also take note of any SERP features that are being triggered. Are there lots of classic organic rankings or are there snippets and images? Note which domains are present in the various SERP features. It isn't just about who's ranking but what type of ranking they have. This is important data that will help to shape your strategy. Creating a piece of written content to compete for a snippet is going to be quicker and easier than creating a video to compete in the video carousel.

Step 4: Snapshot of competitors

Start with top-level metrics. If you plug your list of competitors into a tool like Ahrefs you can get a list of high-level metrics against each one like DA (domain authority), the number of keywords ranking, along with estimated organic traffic and social signals. You can use whichever metrics you have available based on the tools you're using. You're aiming to get a high-level understanding of the domains to see which ones will be realistic to compete against.

Step 5: Deep diving into content analysis

Now we can start a deeper analysis. We want to know what types of content these competitors have and which pieces are doing well. Take a look at their sites and start trying to answer questions like:

What types of content do they have on their site?

Do they have evergreen pages, FAQs, guides, product pages, ebooks, etc. Where do they position these pages?

What type of content do they produce on their blog?

Firstly do they even have a content section? Do they create long detailed guides or short news-style pieces?

How often are they publishing new content?

Is it weekly, monthly or ad hoc? Producing content frequently is not necessarily good if the quality of the content is not there though.

What is the length and detail of these pieces?

Are they long and detailed pieces, do they have good headings and a mix of visual content as well e.g. videos, pictures, etc.

What topics are they focussing on for new content?

Getting an idea of the topics they're producing content on helps to provide an idea for what keywords they're targeting.

Don't forget to look at the metadata of their content and general optimization. Do they have good internal linking? Picking a few examples of each type of content rather than going through an entire site will give you a good overall view and be much quicker.

In Ahrefs you can use the Top Pages report to see which pages bring the most traffic to the site. You can filter by the blog section to just see the articles rather than the entire site. It's incredibly useful to look at the top-performing pages on a site because it tells you what has been working well for that company to date. The Top Pages report will show you which content pieces bring in the most traffic and which keywords they are ranking with. Look to see if the content is all focussed on the same topic or a variety. You can also use this data later on in your backlink analysis.

This task might also help you discover keywords that your competitors are ranking for that you are not. If you've missed these in your keyword research, you can decide the value of them and add them to your list.

Step 6: Social Engagement

Looking at a brands social media profiles will help to show you how their audience is reacting to the content they produce and share. The content might be getting a lot of organic traffic but how much do they pull in through social channels?

Look at the social platforms they are active on and ask:

How many followers do they have?
How often do they post content?
What types of content do they post? (Articles, videos, guides, etc.)
Do they post their own content only or third party content as well?
What is the engagement rate of the content (eg. do they get likes, comments, and shares?)
How do they engage with their followers other than posting content?
These questions will require you to do some manual scouring on their social platforms which may take a bit of time but will provide a wealth of insight. Is the most engaging content on their social platforms the same as the content from the top pages?

There are tools to help with analyzing social media metrics to make this a bit easier as well; for example Buzz Sumo.

Step 7: Digging into Backlinks

Backlinks are still a huge factor in determining how well a page performs on Google. Generally, a page with a high volume of quality referring domains and links will be the higher ranking pieces of content. You can gain a lot of insight by looking at a site's backlink profile. Find out what their top-performing content is and who links to them. Knowing the high quality referring domains that link to their content multiple times can be used as part of your own outreach list when you produce content in the future.

Analyze the SERPs for your keyword groups and see if the top-ranking positions all have a lot of referring domains and links. This will help you to determine what you're competing against and which keywords will be easier to target and which should be a higher priority. If much of the content on your own site has very few backlinks, it's unlikely that you're going to be able to compete with the top dogs in the SERPs who's content has tens or hundreds of backlinks. You're not aiming for position 1 overnight so concentrate on what the domains just ahead of you in the SERPs are like.

As always, don't forget to look at the quality of the links. A piece of content might have hundreds of links, but if they're from low-quality sites or multiple footer links this is not as valuable.

Moz Links Explorer, SEMrush, Ahrefs and Majestic all have backlink analysis tools to help with this. You can get quite varied data for the same piece of content from each of these tools so either you a few to get a more comprehensive view or stick to one for quicker analysis. For example, in Moz, you can see the Spam Score of the backlinks profile for sites to give you a quick idea of the quality of the links.
Moz Pro's Link Explorer: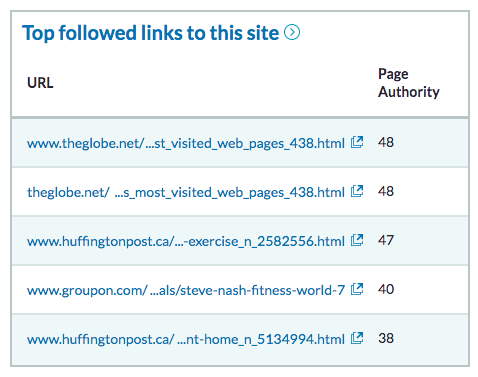 SEMrush's Backlink Explorer:
Step 8: Technical SEO

Last but not least, take a look at their overall technical performance. A site can have great content and high-quality backlinks but if their site has poor page load time then this will not only provide a bad user experience but be seen as a negative factor by search engines. There are multiple tools that you can use. GT Metrix, Lighthouse and Google's Page Speed Insights, to name a few, can help analyze the response time of the site and top-performing pages.

Next, take a look at their overall site structure. Is their content hidden several clicks away? Have they got an entirely flat site? Screaming Frog can help you to analyze some of this using their Click Depth report. Content should be able to be easily found by both crawlers and users alike, not hidden deep down or on numerous orphan pages.

By this point, you've probably explored their website enough by now to have a feeling of how easy it is to navigate. Both Google and users like easy-to-navigate sites that make sense for the user. Make a note of anything bad you notice about the navigation of the site.

And finally, mobile optimization. Most domains are responsive at this point but how well optimized are they? A badly optimized mobile site can decrease rankings and traffic substantially if they are providing a poor user experience. Again you can use Lighthouse to analyze their mobile optimization and find their weaknesses. Note any negative points down as there may be a theme between the domains (e.g. large images), which will help you to make sure you pay special attention to them on your site.

Now you're ready to go!

Congratulations! You've now performed a pretty detailed and highly useful competitive analysis. The next step is to review all of the data collectively to help inform your strategy. Remember to prioritize the tactics based on which ones are more easily achievable and which keywords and domains will be easier to go after in the short term. Once you've implemented some changes and are starting to see an impact, run a comparison and see how you've grown in the SERPs and who you've managed to beat.