On Wednesday, April 29, 2020, at 10:00 AM PDT, we'll be hosting a free webinar to help raise funds for those impacted by COVID-19 and also to help small business owners (or those new to SEO), leverage the power of search engine optimization to grow their business. This webinar provides a basic introduction to SEO and focuses on the areas you can experience the biggest return on, despite potential barriers of time or budget.
In this post, we'll go over some of the topics that will be discussed in the webinar to help facilitate a greater overall understanding of SEO and how you can make the most of this powerful form of organic digital marketing.
What's the point of the webinar?
As we mentioned, the webinar is meant to help businesses owners or those new to SEO maximize on their organic digital marketing efforts while also helping to raise funds for the Greater Vancouver Food Bank in light of the COVID-19 pandemic.
The webinar will be presented by Jesse Ringer, founder of Method and Metric who brings a decade of search engine optimization knowledge, experience, and expertise with him. By the end of this webinar, you'll have the tools and knowledge to:
Gain a better understanding of SEO and how it can fit into your marketing efforts
Prioritize the low-hanging fruit + things you can control
Use the right tools to make smarter decisions
Build a long-term plan to grow your audience + revenue
Alright, so let's get started!
What is SEO anyway?
SEO (Search Engine Optimization), is the process of optimizing a website and other related online properties to improve the chances of ranking higher organically in Google and other search engines. It is a long term strategy that yields a strong ROI down the road because it reduces the need for additional advertising spend. Instead of targeting your audience with ads, it allows your customers, clients, and others who are important to your business, to find you organically.
While SEO should not be a stand-alone strategy and instead works best when combined with your other marketing endeavours, most successful businesses online today have some form of SEO in place and for many, it is their primary marketing initiative.
How does SEO work?
Many people are unaware of how search engines work but the aim of SEO is to ultimately capitalize on search engine mechanics by making it easier for them to find and understand websites.
Google and other search engines work by sending spider robots (sounds scary I know), to crawl websites. As these search engine spiders crawl the internet and gain an understanding of the content, context, and other relevant information of a webpage, it then indexes that web page within Google. When a user performs a search query, Google quickly reviews and retrieves its indexed content to serve the results it believes are most relevant and beneficial to the searcher.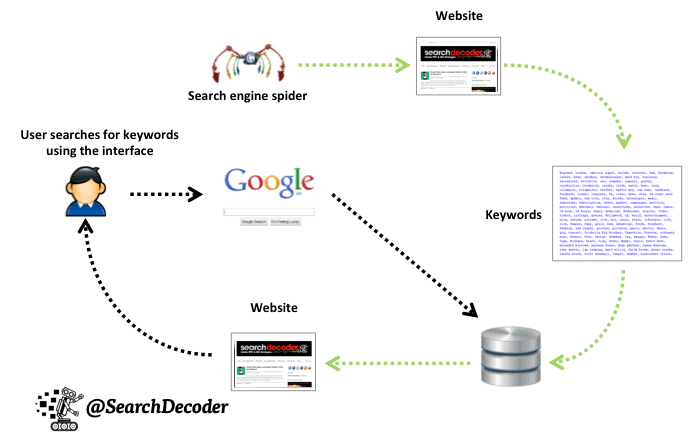 When SEO is done properly, it helps communicate your information to Google more accurately and efficiently, which helps you reach the people actively searching for your product or service.
Keep in mind that SEO is NOT:
Tricking or manipulating the search engines to show your site
Bate and switch your visitors
Misleading information or spam
SEO Basics: A Starting Point
In the next section, we'll go over some basic SEO components that will lay the groundwork for your long term growth strategy and help give you a greater understanding of how they work. Many of these elements can provide significant value for your website without requiring excessive time or budget.
Keywords
Keywords refers to the search words and phrases that are "key" (most important) to your business. These are essentially terms that your customers, clients, and other people relevant to your target market are using in search engines to find the products and services you offer.
Keyword research is typically the first step when it comes to implementing SEO. By researching the keywords and phrases that your audience is using, you can then include these terms across your website making it more likely for search engines to match your website with relevant search queries.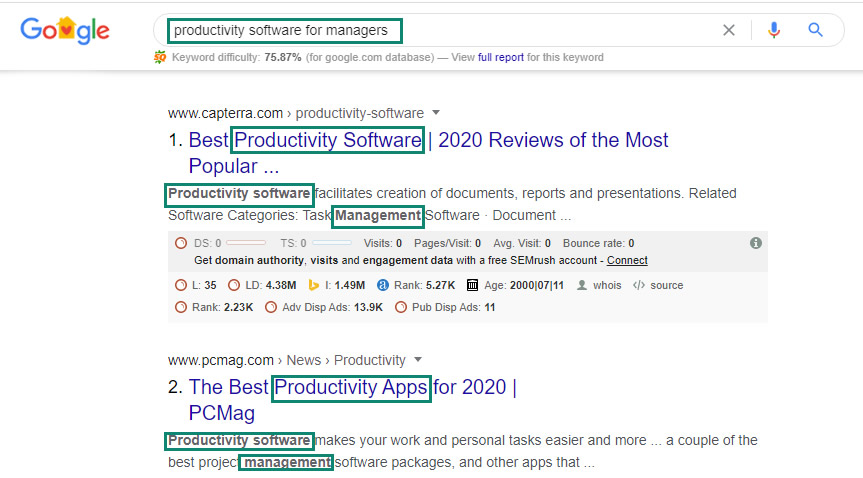 We can see from this example that not only has Google provided an exact match for keywords in some instances but also provided related terms that it has deemed relevant based on the search intent.
Keyword + search intent
When performing your keyword research, you'll want to consider the intent behind certain search terms. Oftentimes, search intent is classified into 3 main groups (which can also overlap):
Informational – This refers to search queries where the user is looking for information about something.
Navigational – This refers to search queries where users likely know what they want and now they're looking for how to get there.
Transactional – This refers to instances where the user has purchase intent behind the search query.
As you conduct your keyword research, you'll want to be mindful of the intent of each term. Some keywords may fit better on certain pages of your website than others. Identifying the search intent behind these terms will help you to be strategic in your overall keyword placement.
How to choose the right keywords
When determining which keywords are right for your website, you'll want to take a few things into account such as:
Search volume – This metric refers to the approximate number of searches each month for this term
Competition – You'll want to know how competitive this term is
Search intent – You'll want to make sure you (and Google) understand the intent behind the query
Top performers – You'll want to look at who is performing at the top of the Google search results page to gauge whether or not is worth pursuing
Free simple tools such as Ubersuggest, can provide most of these metrics for most domains.
Pro tip: If web giants like Amazon or Wikipedia own the top spots for certain terms, it's probably best to shift your focus to different terms as the average website will never likely be able to outrank these established powerhouses.
The best place to start for most websites is to:
Avoid broad terms and instead focus on long-tail search keywords. These are hyper-specific terms that you'll have a better chance of ranking for that will yield the most benefits.
Example:
Broad keyword: power tools
Long-tail keyword: affordable power tools in Denver with a lifetime warranty
Choose a mix of keywords that have high, medium, and low search volume
Focus on the terms most valuable to your business
Aim for terms with medium or low competition as this will give you the best chance of ranking for those keywords
Ensure you have a mix of informational, navigational, and transactional type terms
Look for related terms + synonyms
Analyze competitors' websites for valuable insights
Use Google's predictive answers to get ideas for keywords and phrases then use SEO tools to analyze the data associated with the term(s)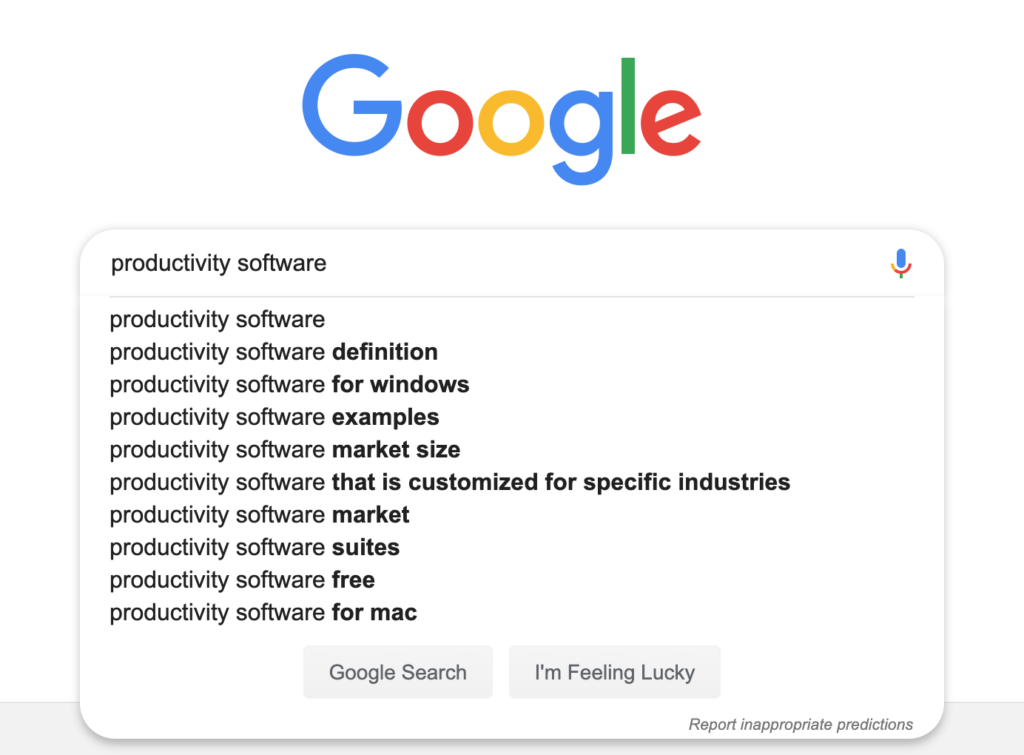 Competitive analysis
No SEO strategy is complete without a competitive analysis. In fact, it is a fundamental component. Not only will this help you understand how competitive the search landscape is for the industry you're in, but it will also allow you to "peek" into what your competitors are doing right or wrong and provide insights on how you can leverage that to your advantage.
How to perform a competitor analysis
The best and easiest place to start with this can be as simple as heading over to Google and searching for the keywords that are important to your business. Who shows up consistently? This might be a good indicator of who some of your competitors might be.
Remember that you'll need to approach your competitive analysis from multiple angles. Look beyond businesses simply in the same space you're in and consider your competitor's keyword strategy, content strategy, and how everything fits together to form their SEO success.
You can become as advanced and detailed as you want to be by using crawling software like Screaming Frog to scan a competitors website and audit their SEO. Additionally, you can use full SEO suites such as Moz, SEMrush, or Ahrefs which offer a host of tools and resources to analyze keywords, competitors, and more in greater detail.
If you're looking for an in-depth walkthrough on how to perform a competitor analysis, check out our guide below.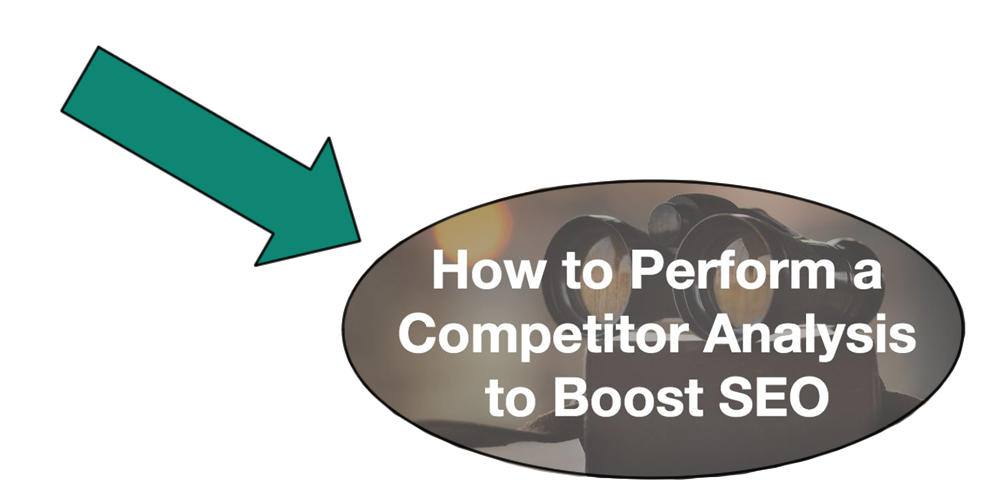 Site hierarchy
Part of the SEO process is making it easier for search engine spiders to crawl your website. At the same time, you'll want to make sure your website offers clear navigation and overall good user experience. One of the most fundamental components of this is ensuring proper site hierarchy. Not only does it make it easier for users and bots to find the information they are looking for but it helps keep things organized and multi-page websites typically perform better than their one-page counterparts.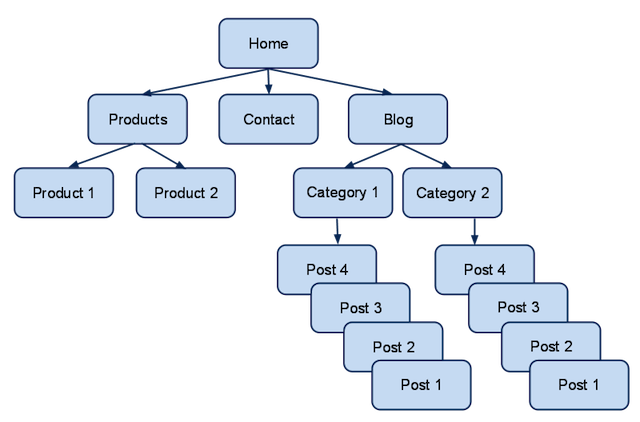 Basic site hierarchy tips:
Breadcrumbs – Help with indexing and users orientating themselves on a site
URL structure – Multiple levels help users and Google understand
Don't make every page the same level
Keep URLs succinct, avoid stop words
Website Design vs Copy
While Google is becoming more and more advanced with each passing year, the reality remains that it still has a hard time understanding multimedia. Written text on the page is still the best and essentially the only way to perform well in Google overall. This ties back into the importance of keywords and including them in strategic locations across your website.
Many websites strive to deliver a stunning visual or interactive experience. From a user standpoint, this might seem exciting and innovative which, may keep users coming back for more. Despite this, if there isn't enough copy on the page, both Google and users may ultimately have a hard time understanding what your website is about, which could negatively affect your SEO efforts.
The flashiest website in the world isn't worth much if nobody can find it and considering there are over a billion websites in existence today, it's important when people search for you, that they can find you.
When you consider your website, you'll want to blend a mix of user-friendly design, sufficient page copy, and accessibility elements together. If someone has a hearing or visual impairment, will they be able to have a quality experience on your website? Google wants websites to be accessible and you should too. The more you can focus on providing an exceptional user experience coupled with effective SEO, the more likely your website is to perform well in the search results.
Priority changes you can make right now
Search engine optimization involves many different components, however, some tend to bring more immediate benefits while others focus on long-term growth. Here are some easy wins that will have the biggest positive impact in the shortest amount of time.
Meta tags
Your meta title and description are often the first things a searcher sees when discovering your business in the search results page. Not only do you want to make this as enticing and accurate to your business as possible but this is also one of the most significant ranking signals Google takes into account. Therefore this is considered prime real estate for those valuable keywords you spent so much time researching.

Typically, every page will have a meta title and description. If none has been created, Google will automatically try to improvise one for searchers. One of the most effective things you can do to boost your SEO initially is to customize your meta title and description to align with your keyword strategy.
Pro tip: Use your most important keywords first and be cognisant of the meta title and description character length. The meta description length is generally recommended to be between 150-180 characters and the meta title is recommended to be between 50-60 characters. Following these guidelines will help your meta tags display properly instead of potentially getting truncated.
Content structure
Ensuring proper content formatting keeps text clean and organized, helps users navigate content, and helps search engine bots crawl pages with greater ease and efficiency. Making use of headings and subheadings with h-tags (H1, H2, etc.) is often a good place to start. Although it's not a ranking factor, including keywords in headings helps to let users know where they are in the content.
You'll want to break up content into easy-to-read paragraphs. Having a giant lump of copy together or a new paragraph after every sentence won't do anybody any good. Prioritize your most important information closer to the top and be sure to include images and other visuals whenever relevant. Ensuring you have a clear CTA (call to action) for each page can help direct website visitors appropriately, which can improve the overall time they spend on the site and inspires them to take the desired action.
Internal linking
An optimized website is one that is well connected. Ensuring effective internal linking is in place, outside of the site navigational menu, is also important. Additionally, linking back to your most important service or product pages from other corners of your website (such as blogs) helps to guide users and also emphasizes the importance of a page from a search engine spider's perspective. The more links that point to a particular destination, the more it will be clear to crawlers that this is an important page.
The anchor text for hyperlinks helps to clarify context so it is usually better to ensure the anchor text accurately reflects the page content at the destination URL. Ideally, internal linking should be set up so that there are no dead ends on the page and instead there remains ease of access to continually navigate elsewhere. Furthermore, be mindful of orphan pages (pages that have one-way or no navigation to or from them). If they are being indexed by search engines, it will not foster a good user experience, which Google will eventually notice.
Remember, Google's objective is to serve the most relevant, helpful, and trustworthy websites to answer searchers' queries. Websites that do not meet these standards will typically not perform well in the search engine results page.
Final thoughts
SEO is a long term growth strategy and there are no quick wins to instant success. Despite that, by implementing the techniques discussed here, your website can gain a solid foundation in search engine optimization, which will set you up for long term success.
To elevate and evolve your SEO past the basics, you'll need advanced strategies and techniques unique to your business. This is usually when seeking out an SEO agency with a proven history of success comes in handy.
In the meantime though, anyone can implement the SEO basics we've discussed throughout and see improvements in the weeks that follow. If you're looking for more support with your SEO, our team at Method+Metric can help, starting with an SEO audit.