There are many tools available to webmasters in today's digital landscape that perform a variety of tasks. Website plugins, extensions, and apps have the ability to enhance website performance, improve user functionality, streamline events, and monitor user behaviour through tracking and analytics.
Those looking to grow their presence in organic search, however, have access to specialized tools and insights developed by the most powerful search engine around (i.e. Google).
Not only does Google account for roughly 87% of global search traffic, but they are also incredibly diversified and provide a plethora of platforms, products, and services for both consumers and businesses alike.
In this post, we're going to focus on the fundamentals of one of Google's most useful (and perhaps often underrated) tools called Google Search Console.
So what is Google search console anyways?
In the words of Google:
"Search Console tools and reports help you measure your site's Search traffic and performance, fix issues, and make your site shine in Google Search results"
Sounds useful right? That's because it is.
Search Console allows you to gauge and measure your performance in Google's organic search results and provides a number of valuable insights regarding both organic performance along with the health and functionality of your website.
But to that point, these tools focus primarily on the relationship between your website and Google as opposed to providing generalized recommendations for website improvements that do not affect, relate to, or impact Google.
Some examples of what these tools can tell you are:
Whether your website is currently in the Google index and whether or not it is being displayed to searchers
Whether your site is mobile-friendly or not
What the page speed analysis of your site is and how you can improve it
How many websites are linking to your domain
The overall Google Search traffic data for your site (how often your site appears in Google Search, which search queries show your site, and how often searchers click through for those queries)
And much more
Why is Google Search Console important?
The ability to be found in Google is essential for any business wanting to be successful in today's ever-changing digital landscape. Google Search Console is important because it allows you to gather valuable insights about your customers and how they find you, all while ensuring your website meets Google's ever-increasing standards. Having this information allows you to gauge existing performance optimize for even greater success down the road.
So what can Google Search Console be used for?
Let's go over the basic features of Search Console below.
Search Console: Overview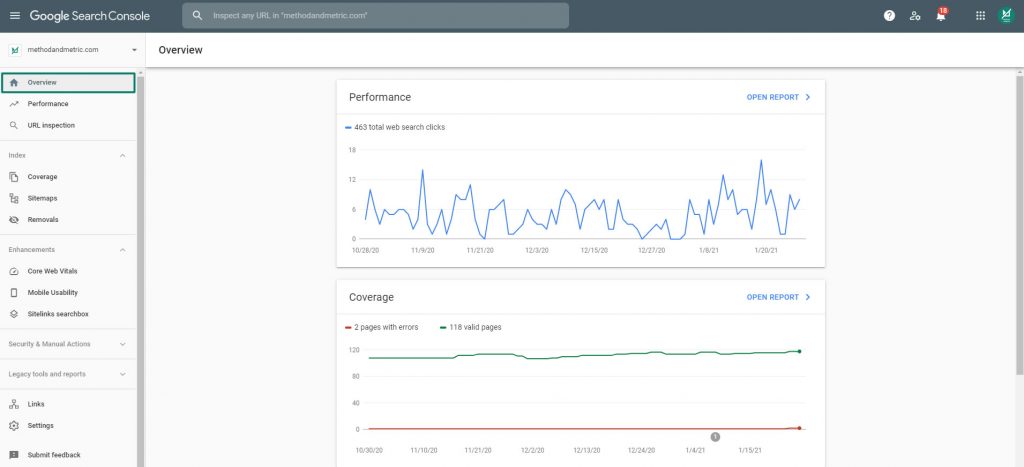 The overview section of Google Search Console provides a summary of performance, coverage, and enhancements which are derived from their corresponding sections within the platform.
This allows you a snapshot overview of your website in terms of how it relates to Google search.
Search Console: Performance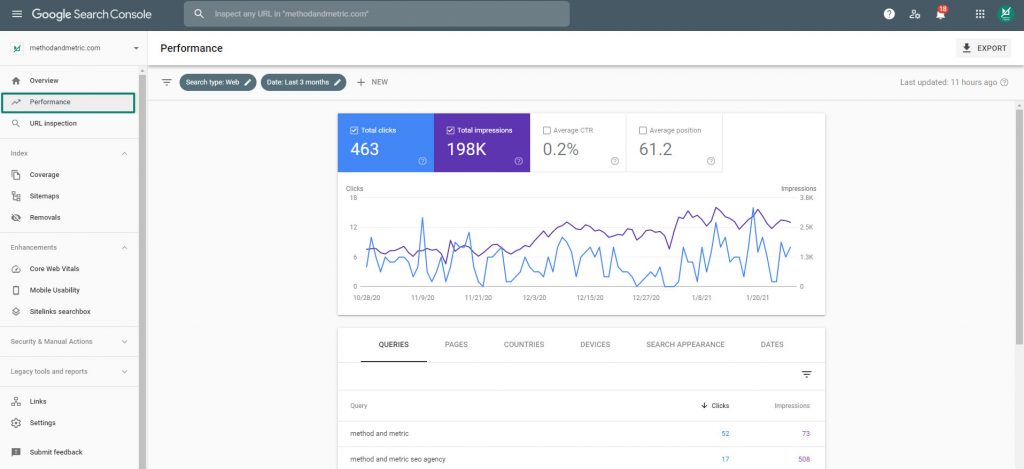 As the name suggests, this is where you can view and analyze the performance of your website in Google search.
You'll be able to see valuable insights like how many impressions certain pages are getting and how many clicks each page is getting from the search results. You can also use filters to compare data over time or hyper-focus on the metrics of a single page, query, or set of queries containing a specific keyword. In addition, you can also see which search queries were used where Google displayed your page.
Understanding the language searchers are using can help you better understand both user search intent and how Google views the pages on your website. This information can help verify if you're on the right track or whether your pages should be improved for better relevancy, accuracy, and performance.
Search Console: URL Inspection

The URL Inspection tool allows you to enter any URL on your website, which will show whether your page is currently indexed in Google and whether there are any errors or considerations for you to review.

If you're seeing green checkmarks then this is usually a sign these pages are indexed and working as intended. This tool can be helpful in identifying problem pages and what you can do to fix them
Search Console: Coverage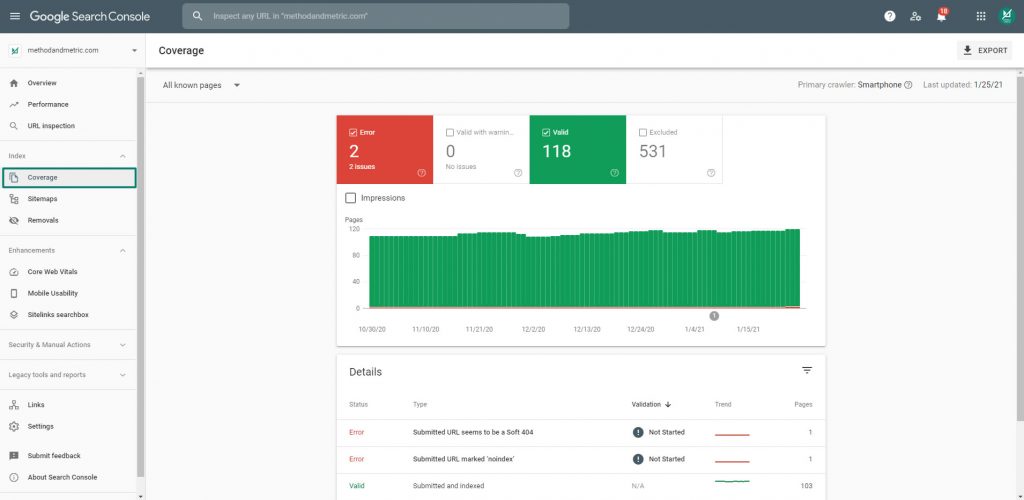 As the name suggests, this is where you can view the coverage report of your website. Here you can see which pages of your website have been indexed, which have not, and why. This can provide a good overview in terms of knowing which pages Google is serving to searchers and which ones it is not.
This section should reflect your intentions. If you have intentionally included or excluded pages in the Google index, confirmation of that can be found here.
Search Console: Sitemaps

In this section of Search Console, you can manually submit your website sitemap(s) to Google.
Google will naturally find and crawl your website over time. When it does, it will look for a sitemap. If one exists, it will analyze it to get a better understanding of your website. If it does not exist, this can cause problems for your SEO.
As a rule, all websites should have a sitemap.
This section will also confirm whether Google has received your sitemap, when it was received, the last time it was read, and the status of the submission as either "failed" or as a "success".
Search Console: Removals

For a number of reasons, you may want to remove some of your webpages from Google's index. Perhaps the page is outdated, irrelevant, incorrect, or is considered a "junk" page. As a general consideration, most websites will not want to have all their pages indexed and this section in Search Console allows you to request removals.
Google typically only allocates a set amount of resources when it comes to crawling and indexing a website (generally referred to as "crawl budget"). So having too many "junk pages" (e.g. pages that provide no value for the user, pages with no content, pages with broken links, etc.) can adversely affect your performance in the search results and this also risks junk pages being indexed before or instead of, the most important pages of your website.
Google wants to serve quality pages to searchers and if your webpage is not up to par, Google will find another to replace it with. That means you could be missing out on valuable website traffic and potential customers.
Search Console: Core Web Vitals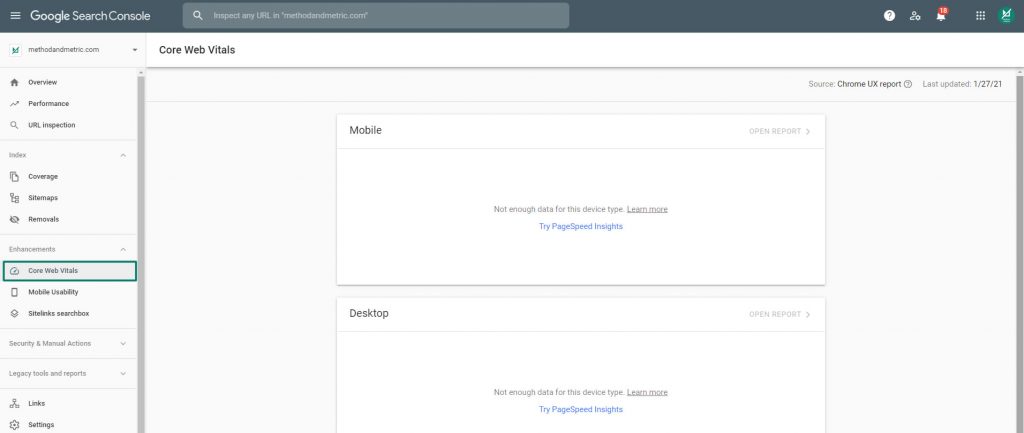 In this section, Google provides an overview and analysis of your page speed for both mobile and desktop. This information is derived from the Chrome UX report, which reflects actual usage data on your site from users around the world.
If there isn't enough real-world data to display insights here, this section may be blank. The good news is you can still gain valuable insights regarding the speed of your webpages by using Google's PageSpeed Insights tool.
---
Pssst! Wondering what some of Google's page speed insights mean? Check out this related reading on Interpreting PageSpeed Insights.
---
Search Console: Mobile Usability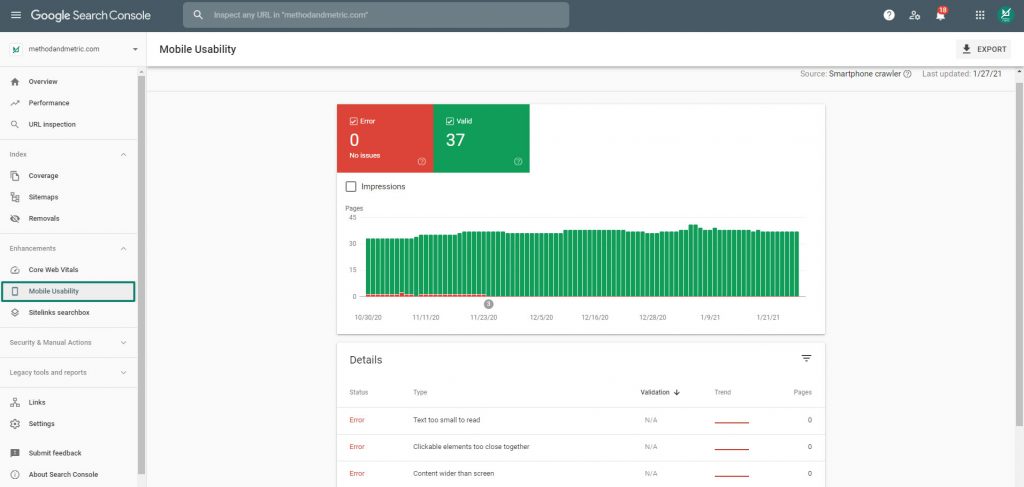 Again, as the name suggests, this section of Search Console informs you whether Google perceives your site and your webpages as mobile-friendly or not. It also provides some recommendations for improvements.
Ensuring your website is mobile-friendly is perhaps one of the most crucial components of ensuring your website is optimized for search engines. In 2018 Google rolled out mobile-first indexing which means if both a desktop and mobile version of your website is available, Google will only index the mobile version.
In fact, over 50% of website traffic globally comes from mobile, which means you must have a mobile-friendly website or you risk poor performance in Google or worst-case scenario, no performance at all.
Search Console: Sitelinks Searchbox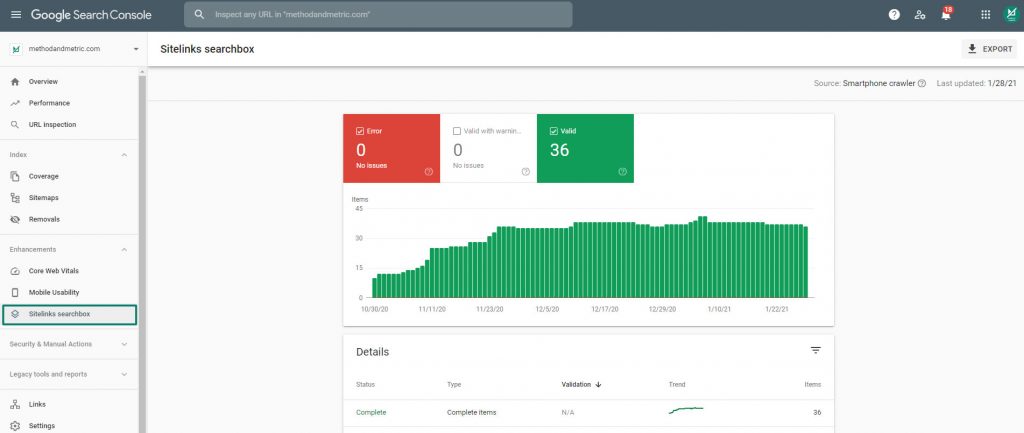 A sitelinks search box is a quick way for people to search your site or app immediately on the search results page. This section in Search Console will inform you of whether your website is using this feature and whether there are any errors.
The sitelinks search box can be convenient for users as it allows them to access navigational menu items from your site without having to leave the search results. It helps users connect with the pages they're looking for quicker.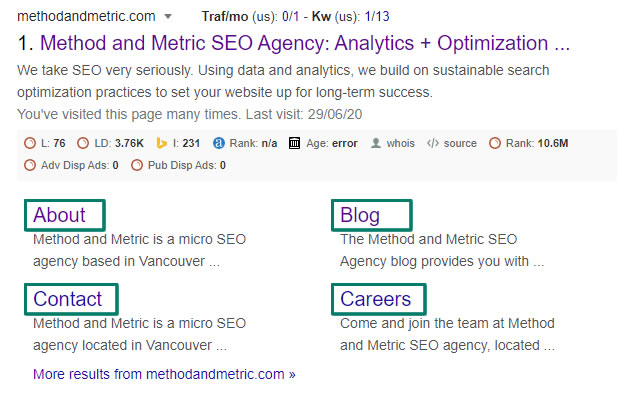 While Google may find and display this information naturally, you can have greater control and customization in terms of what will be displayed here by adding structured data markup to your webpages.
Final Thoughts
While we've explored just the basics of Google Search Console here, it's evident that this powerful tool developed by Google can provide value for webmasters in a variety of ways.
Regularly monitoring your search performance, mining that data for insights, and ensuring that the health of your website is optimal in Google's eyes, are all important factors that will impact your overall performance when it comes to organic search engine marketing.
Are you looking for more advanced ways to use Google Search Console? Perhaps Search Console is revealing some very troubling information concerning the health and performance of your website.
At Method and Metric, we can help ensure your website is optimized for Google— saving you time and energy while improving your website performance, usability, and success.
Get in touch today and let's talk.