Case Study: Improving Web Traffic for Herox
Executive Summary
HeroX.com is a crowdsourcing platform that connects everyday problem solvers to bring innovative thinking to the world. By the end of a 10 month SEO project with HeroX, Method and Metric Digital Agency Inc. (Method and Metric) were able to achieve the following:
Improved search visibility for HeroX.com with 936 additional keywords on Google's first page.
12,100 more monthly sessions from organic search.
9,954 more monthly goal completions from organic search.
209,000 more monthly impressions on Google.
4,764 more monthly clicks on Google.
Introduction
HeroX is a platform where problems are solved. It achieves this by connecting those with a problem, with those who have the know-how to solve said problem. Individuals, groups, and organizations can post challenges on HeroX.com. These challenges are open to the public. Anyone can accept a challenge and begin working on a solution.
The winner(s) of a challenge receives a monetary prize. The prize is predetermined and paid by the issuer of the challenge. An additional fee is also paid out to HeroX by the issuer. This is a percentage of the cash prize.
An example of a past challenge is the Space Poop Challenge by NASA, a "competition to source a system that routes and collects human waste away from the body, hands-free, for fully suited astronauts". It had prizes totaling $30,000 USD and had over 20,000 innovators accept the challenge.
On November 15th, 2018, HeroX partnered with Method and Metric with the goal of improving web traffic from organic search sources, such as Google and Bing. Method and Method Metric continued to provide SEO Services to HeroX until October 2019.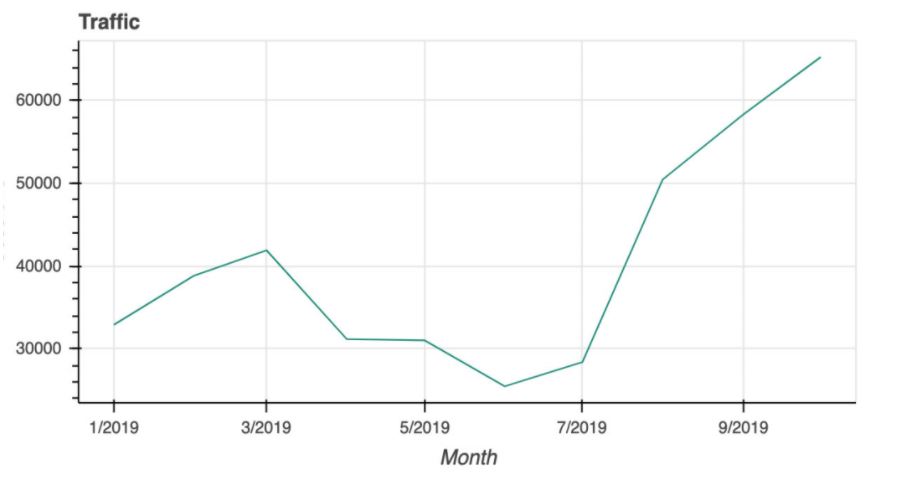 Organic Traffic
A 114.10% increase in monthly sessions from organic search from January 2019 to October 2019. Organic search includes traffic from search engines such as Google and Bing.
A 39.91% increase in monthly website clicks from Google.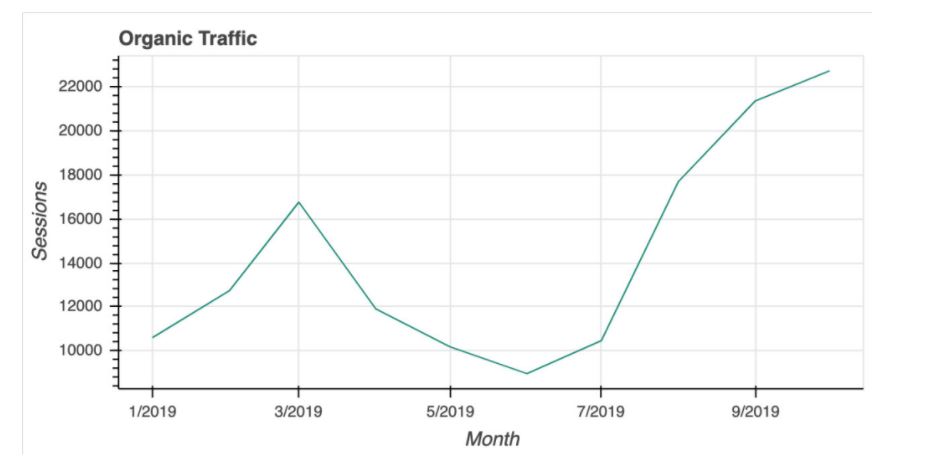 Goal Completions from Organic Traffic
A 172.84% increase

in goal completions

from organic traffic

from January 2019 to

October 2019.

A 55.95%

Improvement in

goal conversion rate

from organic traffic

sources.

* Goals measured by

issued and accepted

challenges.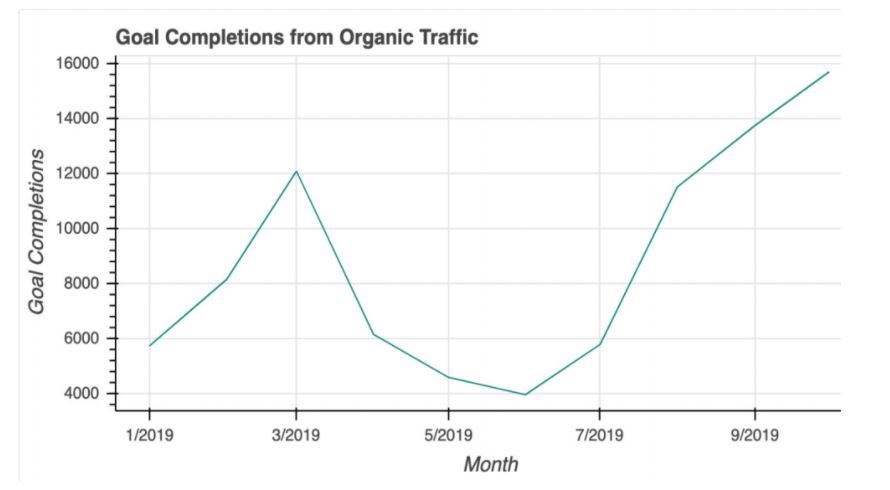 Keyword Ranking Performance (Google)
7.42% Increase in the number of tracked keywords ranked in the top ten of Google.

Improved average ranking position on Google for all tracked keywords from 24.6 to 20.9.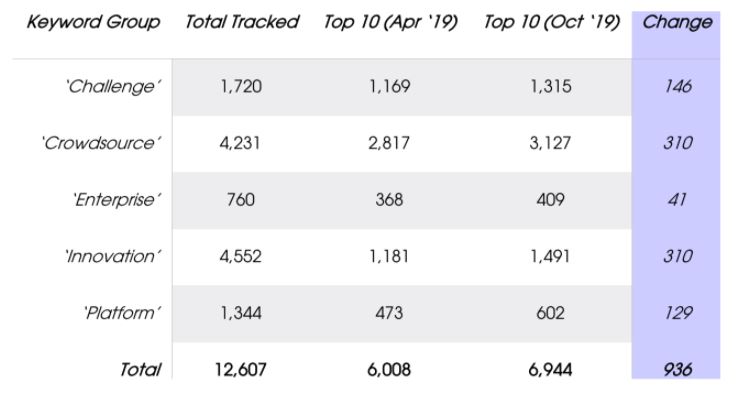 SEO Strategy & Keyword Research

Our primary objective was to increase web traffic on HeroX.com via discovery searches. These were search queries from users who did not know about HeroX and often included long-tailed keywords that were non-branded. Due to the nature of HeroX's business model, there are two main sets of users it has to reach: Issuers – Those looking for a way to solve a problem they face. Innovators – Those looking to solve problems.
From an SEO perspective, the most important group to target was the issuers. After all, posting a challenge is the first step in the process. Challenges need to exist in order for innovators to exist.
Additionally, the uniqueness of each challenge meant that it was more likely for a potential innovator to discover HeroX or a HeroX challenge through other mediums, such as social media, word of mouth, the issuer themself, etc, than it was for them to stumble across it through organic search.
It was easier to target keywords for issuers since it was easier to predict the language they would use. Issues are mainly concerned with finding a platform to post a challenge, and thus would likely use generic "crowdsourcing" or "challenge" type keywords in their search queries in order to find what they were looking for.
Keywords for innovators would inevitably be harder to track given that innovators might be looking for a specific challenge or challenges that require a very specific skill they possess, in addition to generic "crowdsourcing" or "challenge" type keywords. In other words, those looking to issue a challenge would have a better idea of what they were looking for. Those who go on to accept a challenge may not exactly know what they were looking for until they found it. In fact, they may not have known they were looking in the first place.
Of course, it was still important for HeroX to target innovators through organic search due to the high ratio of innovators to issuers. For every challenge posted on HeroX.com, there were thousands working on a solution for it. With our keyword research, we aimed to target informational and transactional search queries. Which we believed would lead to more discovery searches, web traffic, and ultimately, goal conversions.
Search volume is often a good metric to use when refining a keyword list. However, it was evident that an over-reliance on search volume, in this case, would not be best.
Our analysis showed a high number of competitors in the same space. As such, it was important that we used long-tailed keywords that centered around "Crowdsourcing", "Challenge", and "Platform".
Further research indicated targeting "innovative" and "enterprise" keywords would likely yield higher click through rates.
On-page Optimization
Once the finalized list of keywords completed, the next step was to determine which pages would be targeting which keywords. This would ensure that pages were not competing against each other for keywords. It also allowed for secondary and tertiary keywords to be concentrated on specific pages.
Title tags, Meta descriptions and H tags of HeroX.com's pages were then updated with the long-tailed keywords. However, optimizing all pages was not a viable option.
HeroX had tens of thousands of pages on its website. New pages were consistently being generated on HeroX.com through new challenges, innovators, teams, forums, etc.
Because our primary objective was to increase discovery searches, Optimizing main and blog post pages was especially important. As such, the content for said pages was also updated to include relevant keywords.
Blog posts on HeroX.com were updated to include internal links to other relevant posts or pages. This improved user experience and link authority.
Another issue on HeroX.com was the dilution of link authority on some pages due to a high volume of external links, which could be posted by users on several page types. Nofollow directives were implemented in order to prevent link authority from being lost to external links and to only be preserved for internal links.
Crawl Rate Optimization
The size of HeroX.com, in combination with many pages with similar and low amounts of content, had resulted in indexing issues on Google.
Though it is often difficult to attribute poor performance on Google to one single factor, most signs seemed to point to the indexing issues as one of the main culprits.
The index bloating was minimized by removing pages with duplicate data and implementing noindex meta tags on pages that did not need to be indexed by Google. Canonical Tags were used for pages with similar content.
Further investigation showed that pages were littered with hidden content. That is content that was present in the backend but not displayed to the user.
Regardless of intent, pages with hidden content can be penalized by Google as it is seen as a tactic to improve search visibility by stuffing keywords or including content that may not be relevant to the page. As such, all hidden content was subsequently identified and removed.
HeroX.com's sitemap was also revisited to ensure last modified, change frequency, and priority tags were set up correctly.
Other Noteworthy Actions:
Implemented proper language declarations & hreflang to ensure that duplicate content, although in different languages, don't compete against each other.
Restructured URLs for Challenge pages to fix site hierarchy, which allows search engines to better understand the relationship between pages.
Improved usability for mobile devices by implementing a sticky navigation menu, footer navigation, and pagination on challenge categories.
Updated broken and insecure links to improve user experience and ensure website security.
Final Thoughts
Despite an initial dip in web traffic on HeroX.com, the website did experience significant increases in organic search traffic and goal completions after July 2019. Monthly website clicks from Google and average rank on Google also improved in during the same time period. By the end of our contract with HeroX, its website was ranking on Google's first page for 936 additional target keywords, and had experienced improvements across all keyword categories. Our findings appear to support the notion that the benefits of SEO work are often not experienced immediately. In a world that continues to place an increasing emphasis on using metrics and KPIs, those looking to embark on their own SEO journey should not be too quick to discount their high-quality work.