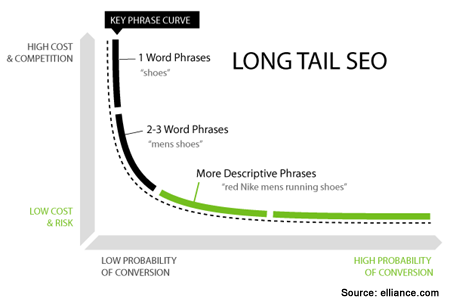 The importance of keywords to a website is pretty obvious. You need to target key terms relating to what your business is about and the industry it's in if you want to rank well in search engines. But it can often be very difficult to rank well for many of the top keywords, as there are so many websites competing for those terms. The best way to get a high ROI on your SEO efforts is through long tail keywords.
What are Long Tail Keywords?
Long tail keywords are search terms that are more precise and detailed than traditional keywords. Take for example the keyword "hockey gear", this is a highly competitive keyword with thousands of daily searches. Here is a long tail example: "where to buy used hockey skates". This term offers more detail and insight into what the searcher is looking for. In short, long tail keywords are any terms with four or more qualifying words.
Why target Long Tail Keywords?
Optimizing your website for long tail keywords will yield higher click-through rates, drive more targeted traffic to your site. It offers a greater return on your investment, lower bounce rates, and more page views. But the single greatest benefit is more business. Searchers using long tail terms are usually in the last stages of the buying process. They have decided on what product or service they want, and they are now just looking for the right price.
The key to a successful long tail strategy is specific. Give detailed descriptions of what you have to offer; the more niche you can get with your pages, the more high-quality traffic your site will attract.
We'd love to hear what you have to say. Share your thoughts in the comments section below!
Update: The smart people at Moz created a fantastic Whiteboard Friday on Long-tail keywords. You should check it out.